Lake Resources is committed to integrating sustainable development practices throughout our operations, minimising our environmental footprint and contributing to a clean energy future for the planet.
A sustainability report will be produced when the data is available and compiled by an independent assessor.
The company is committed to respecting the rights and interests of all stakeholders, especially local communities and authorities and maintaining close relationships with them to understand and manage the environmental, economic and social impacts of our activities.
Lake's intentions are to target the following ESG principles and goals set by the EU and UN: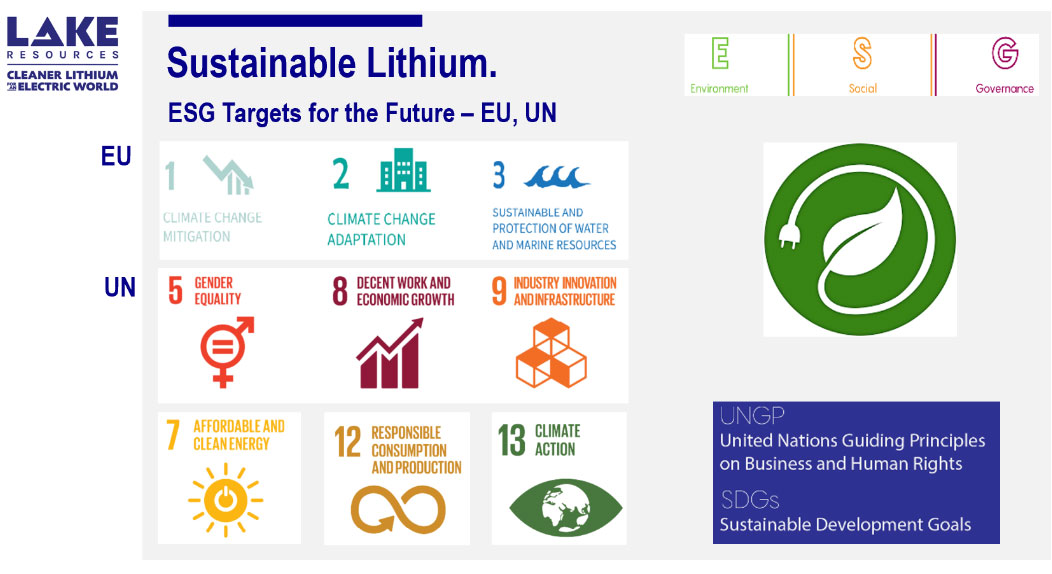 Clean Lithium
The direct extraction process developed by our technology partner, Lilac Solutions, offers the potential to revolutionise the lithium brine industry.
By using a benign water treatment process to produce lithium, Lake avoids any mining and returns virtually all water (brine) to its source without changing its chemistry (apart from lithium removal).
The environmental footprint is therefore far smaller than conventional brine evaporation processes or of hard rock mining, providing a better outcome for local communities and the environment. This is particularly important in arid environments where lithium brine producers are facing growing community pressure to change traditional extraction
practices.
Lake's Pre-Feasibility Study using the Lilac direct lithium extraction process has shown a physical footprint of approximately 0.5 -1 sq km versus recent brine evaporation projects with 10-15 sq km of evaporation ponds plus the processing plant.
Read more about Lilac's direct extraction process here.
Energy and Carbon Footprint
Current studies are assessing approaches to increase usage and availability of renewable energy sources to utilise hybrid solar and wind energy together with traditional energy and energy storage. The aim is to decrease the CO2 footprint and report on these outcomes.
Health & Safety
Our primary responsibility is to protect the health and wellbeing of all employees, consultants, contractors, service providers and visitors across all operations. We believe nothing less than zero harm is acceptable.
Lake promotes a culture in which health and safety is integral to our operations by:
consulting employees regarding safety initiatives and accident prevention measures;
delivering induction training and ongoing instruction to ensure all personnel understand their responsibilities and our expectations for working safely;
providing and maintaining safe systems of work which ensure that hazards are identified and controlled; and
monitoring safe work practices to ensure continual compliance.
Landholder relations
Lake strives to negotiate in good faith with landholders. Trust and respect for their rights form the basis of our approach to negotiations with them, across our international operations.
Our approach includes:
Being respectful, honest and transparent;
Addressing issues of key concern;
Ensuring the project is explained clearly and simply to landholders, seeking their advice and input;
Maintaining positive ongoing relationships with regular communication.
Community relations
Lake understands that our long-term success goes hand-in-hand with enhancing the broader wellbeing of the communities and regions in which we operate.
We believe in open and accountable engagement processes and interactions to improve the effectiveness of our commitment to this important relationship.
Our approach includes:
Engaging stakeholders regularly, honestly, ethically and constructively about all matters of importance to them and our company;
Ensuring they are informed about our plans and are consulted;
Being accessible and responsible;
Engaging in a culturally appropriate manner;
Proactively monitoring emerging issues and trends of importance to stakeholders. Within the broader community of the project, our approach also includes:
A commitment to training, to provide for decent work and local economic growth;
Gender equality in the local workforce.